The crypto market is again spotted amidst the downside correction, where the coins are marking a massive plunge. The top guns of the market are also suffering due the same. Bitcoin price has dropped to $7,200, and Ripple is near $0.198. The fall in the price is quite strong, and if it continues, then the drop might be in double-digit by the end of the day.
Today, Ethereum started with quite an amazing upsurge that couldn't last long in front of the market pressure. The coin soon marked plunge, and thus it is currently spotted at $168. The day might bear the loss for the intraday traders.
Ethereum Price Analysis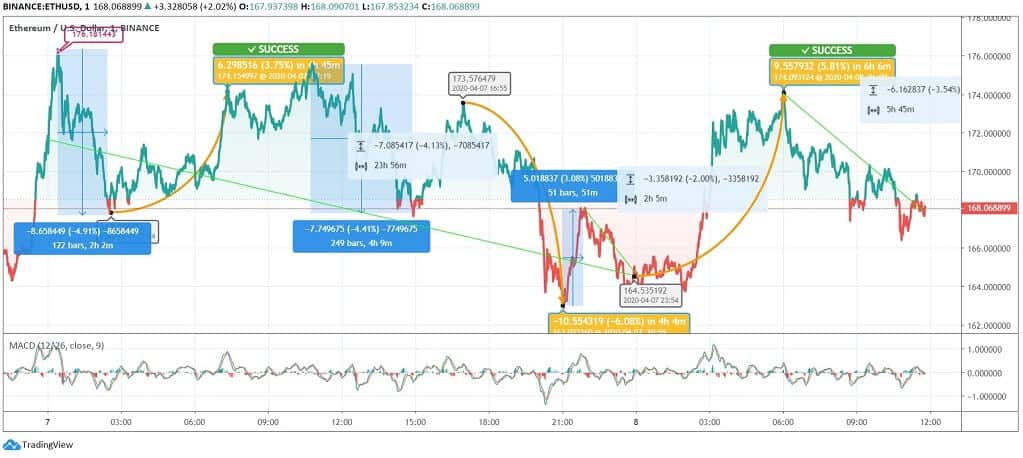 Yesterday, Ethereum started dealing at $171, and in the next 30 mins, the price escalated to $176, but at 02:45 UTC, the price dropped to $168. Further, the ETH price spotted improvement, and at 07:19 UTC, the coin touched $174 by a 3.75% hike. The currency was spotted, locking its price at the same level. Then, the coin marked plunge, and it reached $168 by 4.41%; however, from this low, Ethereum price improved to $173 at 16:55 UTC. At this high, the coin couldn't hold itself and dropped to $163 by a 6.08% fall. Before closing, the price improved to $168 but ended the day at $164. The day-long movement brought a regression of 4.13%.
Today, the ETH coin started with improvement, and at 06:00 UTC, the price spotted at $174 by a 5.81% hike. The currency couldn't hold for long at this level and slipped to $168 at the time of writing. In the upcoming hours, the possibilities of falling to the immediate support level are comparatively more. The next support level at $0.157 could be violated by the end of the day.