ETN, without any doubt, is a topic of discussion these days. With ETN being the only eco-friendly cryptocurrency in the network, it has surely earned the trust of many potential partners and traders. And with ETN joining the race of top 100 ranking, we might be able to see some really good returns from the investments made. ETN is currently trading at $0.005407 at 09:25 UTC time as on 18th July 2019.
The coin in past one week has been experiencing a roller coaster ride. On 13th July at 23:00 UTC, the coin was trading at 0.00000045 against BTC value. The value increased by 31.21% on 13th July at 11:40 UTC, trading against 0.00000059 BTC value. The value dropped by 11.90% on 15th July at 08:25 UTC, trading against 0.00000045 BTC value.
The value increased by 15.46% on 15th July at 17:05 UTC time against 0.00000060 BTC value. The value dropped down again by 16.63% on 17th July at 18:45 UTC time trading at 0.00000050 BTC value.
ETN was seen moving far from the solid bearish zone today. In any case, this may be a decent time to 'buy' ETN currency, yet the exchange may raise in the upward movement soon enough.
Also, starting now, for merchants to offer under the more secure zone, the determined resistance support is as below:
R3: 0.006122
R2: 0.005827
R1: 0.005594
S1: 0.005066
S2: 0.004771
S3: 0.004538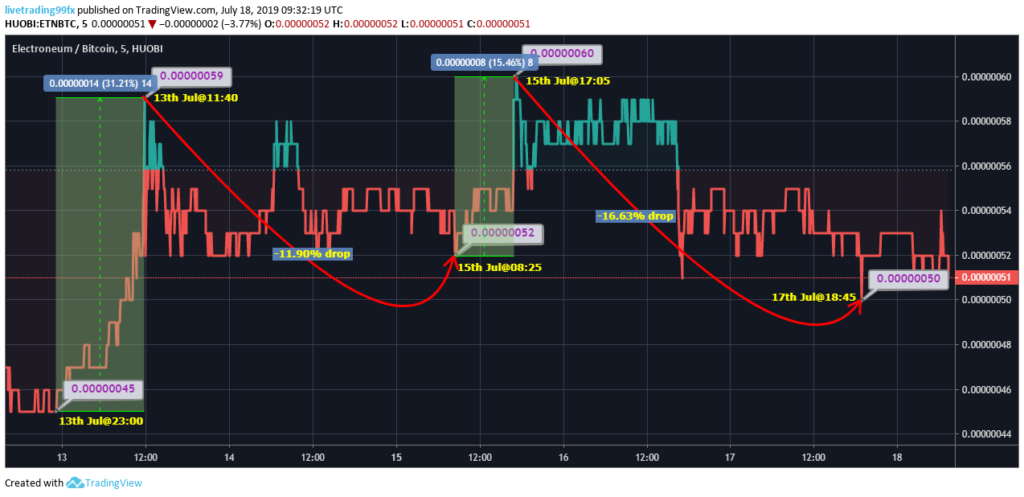 ETN has been a result giving coin with a considerable change in the ranking over the period of time.