2020 is likely to end its first quarter with marginal pressure on the crypto market. The movement in the coins is mostly stagnant, and thus the pressure doesn't seem to have much influence. Ethereum is marking a slight plunge since the opening hour. As per the current trend, the currency might remain in a similar range for the rest of the day and might close with a negative digit on the chart. However, the upcoming days would help traders to recover from the prevailing loss.
Ethereum Price Analysis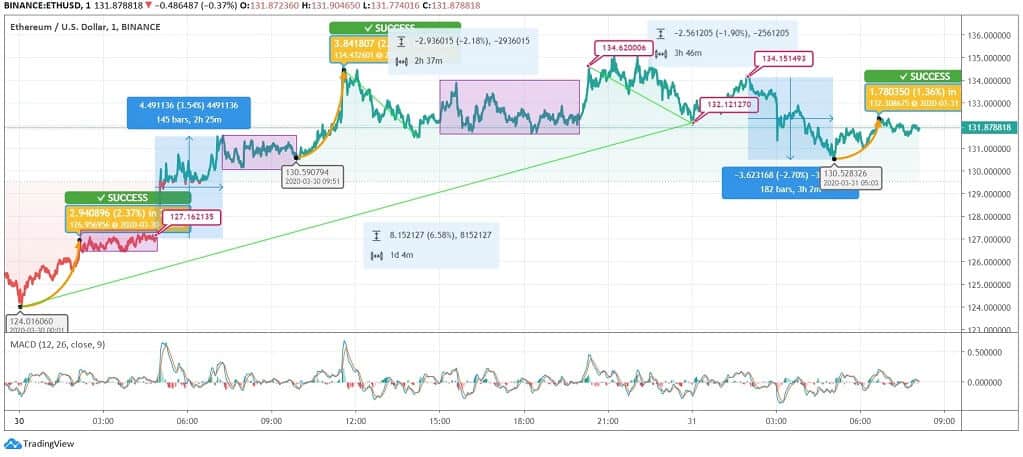 Yesterday, ETH coin started dealing at $124 in the initial hour. Within the next 2 hours, the price escalated to $126 by a 2.37% hike. Later, the coin locked its price level around the same level for a while, but further, the price escalated to $131. Ethereum again reflected a tight hold around $131 level till 09:51 UTC. The currency improved momentum, and the price touched $134 by 2.94% at 11:34 UTC. The currency couldn't hold for a while and dribble to $131 by 2.18%. The coin improved slightly and reached $132 and hanged itself till 19:55 UTC. Later, the ETH price escalated to $134 but couldn't hold at this high and fell due to the pullback pressure to $132. The day ended at the same with an intraday progression of 6.58%.
Today, Ethereumss started with improvement, and within the next 1 hour, the coin touched $134 but faced rejection and fell to $130 by 2.70% fall at 05:03 UTC.  Further, it improved to $132 and then continued to trade at the same level. As per the current momentum, ETH price may correct down but hold its price above $130.