The growth in the crypto market started at the beginning of the day. It looks like the upsurge is speculated to reflect a double-digit percentage increase, and that might hang in for a while. The entire month has been quite disappointing and has spotted many massive plunges.
Ethereum is counted among the top trending cryptocurrencies was also caught in the storm. The price of the coin dribbled below the 90-days low and reset the same at $95.18. Well, the market improved in the latter days. Today, when the first quarter is almost on the verge of closing, and then the market has experienced heavy improvement. ETH coin is marking tremendous upsurge that has brought the price to $130.
Ethereum Price Analysis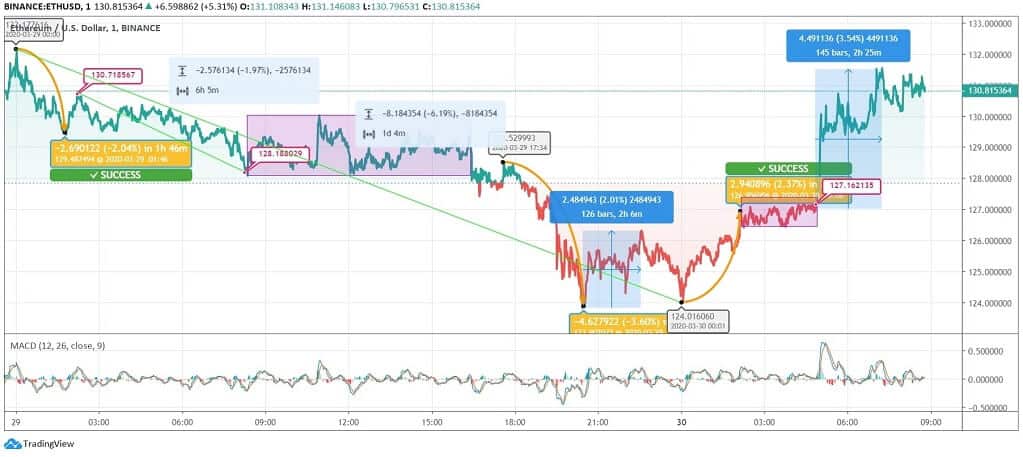 Over the last few days, ETH/USD reflected a regressive price trend. Yesterday, the coin was at $132.177 during the initial hour. At 01:46 UTC, the price dribbled to $129 by 2.04% fall. Later, Ethereum price escalated to $130 at 02:18 UTC, but couldn't hold itself and plunged to $128. The coin locked itself at the same level with spikes at $130 and remained till 16:27 UTC.
Further, ETH price dribbled to $123 by 3.60% fall but immediately improved to $126.25 by 2.01%. The closing hour brought the price again to $124. The intraday movement exhibited a 6.19% regression. Today, Ethereum started trading with an upside momentum. The price counters moved from $124 to $126 by 2.37%. The currency hanged around the same level till 05:00 UTC. The price escalated to $131 by 3.54% in the next 2 hours. The current price of the coin is $130.
The current price of Ethereum has already breached the immediate resistance level at $129 and is heading to the next resistance level at $133. The same would violate the level in the impending hours.