Ethereum (ETH) has been one of the most popular coins in the crypto market. Even under conditions of strong bear pressure as seen from the price fluctuations of the past week, ETH coin managed to move in the upward range. The price has been fluctuating between $255 – $287, indicating that bulls are itching to make a comeback.
Ethereum Price Analysis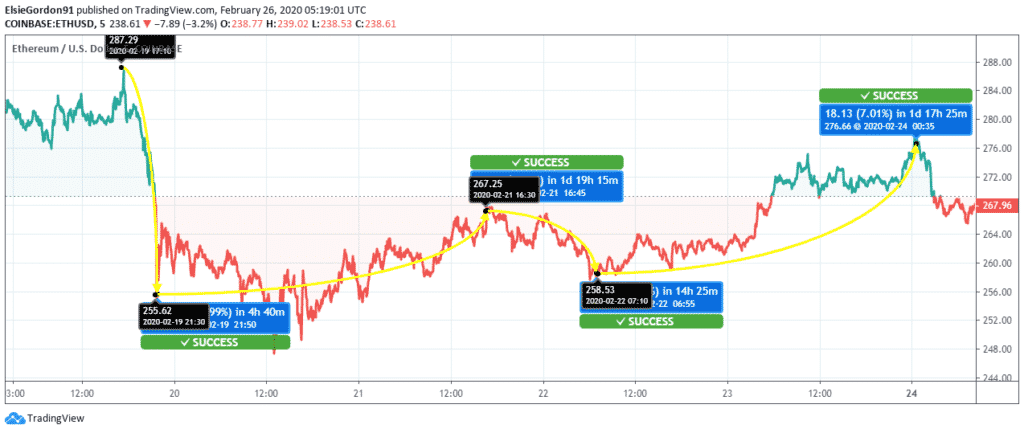 ETH coin seems to be constantly on the move to have a bull momentum as indicated by the price trend for the coin over the last week. The price of Ethereum was at a high of $287.29 on February 19, and then on the same day, due to the strong bear pressure, the currency went below the baseline and touched $255.62 by a massive fall of 10.99%. ETH price then got the bulls in action, and the price went on a recovery mode and reached a high of $267.25 on February 21.
Ethereum price had a setback on February 22 when it fell to $258, showing a downward movement to the extent of 3.22%. After this fall, the currency pushed the price in the upward direction and reached $276.66 on February 24, and the upward rally was at 7.01%. The current day's price of ETH coin has fallen slightly to $267.96 showing the fall at 3.14%.
ETH coin is slowly inching its way towards price recovery. Analysts expect the coin to emulate its past performances during the year as it has great future potential. Ethereum has always been a bankable coin, and investors can take note of this capability of the coin to put in a very good show at times of bull momentum and continue holding it from a long-term perspective.