The condition of the crypto sphere is still the same with no sign of positive hopes. Rather, the intensity with which the prices of altcoin like XMR is getting slashed down is causing depressions among the willing investors. Due to this miserable condition of the crypto market, maximum projects of altcoins are going to fail this year and XMR is definitely one of them. So, no matter how hard it tries to push its value up, it will decline down at a steady rate. Moreover, one should not forget the erratic and turbulent nature of BTC which is also causing significant drop downs in altcoin prices.
Current Statistics of XMR/USD
Price in USD: 79.39 USD
Price in BTC: 0.00809518 BTC (UTC time 02:40)
Circulating supply: 17,128,085 XMR
Market cap: $1,343,288,168 USD
Market rank: 13
Monero Price Analysis & Forecast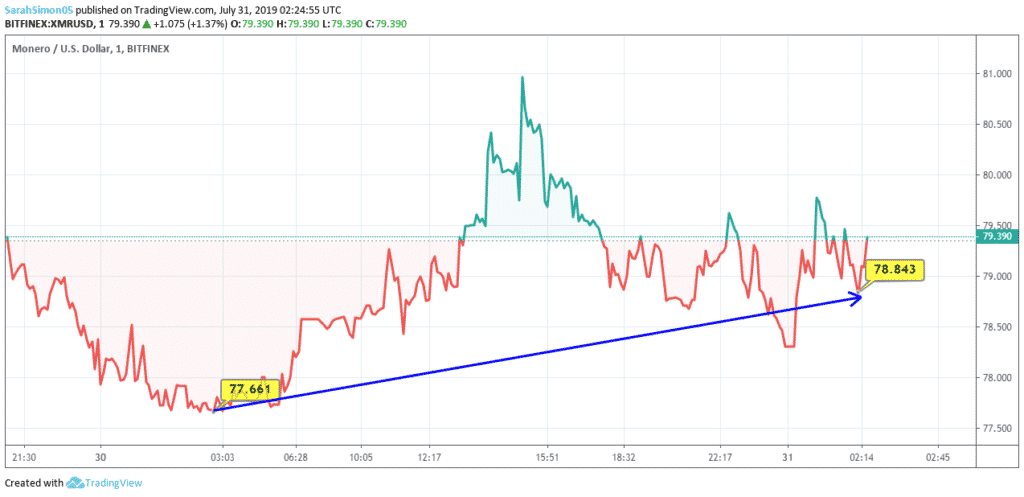 From the above 1-day chart of XMR, it is clearly evident that yesterday, it had traded in bearish range for most of the time with slight peep-ups in between. As it is lacking support levels, it is hard for XMR to stay in the bullish range even for some intervals. It dropped down to as low as 77.66 USD yesterday and till now, it is trading in bearish zone only. Today, it had traded at a low value of 78.84 USD. So, the shift in the prices in this one day is not that great as bearish range of XMR is persistent. Its value in this one day has although risen by 1.42% but the way it is getting traded in bearish range is alarming for its sustenance in the upcoming days. Considering the above facts, we think that in the upcoming days, XMR can have a value of $78.80.
In the concluding part, it can be said that the crypto market condition is still the same and XMR's condition is really depressive at present. Even, in the upcoming days, the condition is not going to improve as this intense volatility will not minimise before the end of this year. So, considering any sort of investment on the same is definitely a futile idea at present.