Ethereum Classic (ETC) is currently dealing at $7.
The traders can expect a recovery but in the second half of the day.
Ethereum Classic (ETC) is currently dealing with the wild bears in the market. In the last couple of days, the coin has shown its impeccable potential in the crypto market. The currency was seen dealing with a high profit in yesterday's chart. Towards the closing hours, the coin dealt with a slight pull-back.
We are looking forward to the coin for lifting up the pressure and relieving the coin. To understand the momentum more precisely, let's have a look at the intraday price chart.
Ethereum Classic (ETC) Price Chart:
The trading View chart is taken on 24th August 2019 at 08:35:27 UTC to analyze the price momentum of the coin.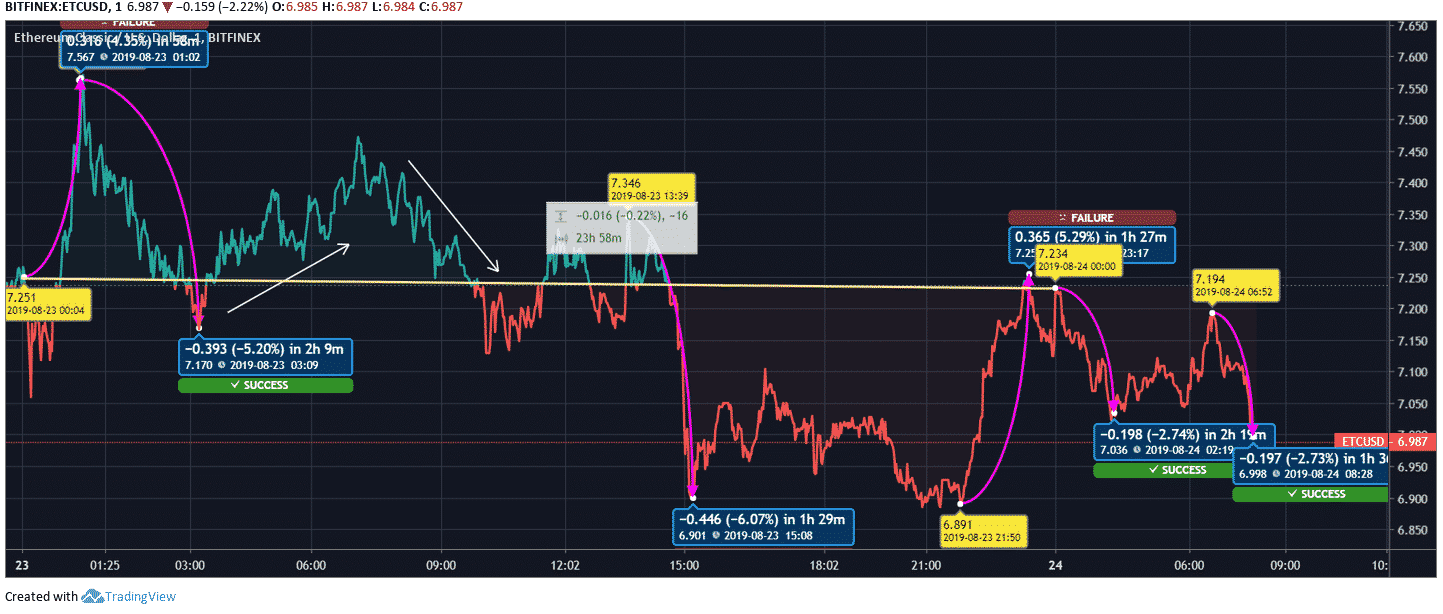 Yesterday, the coin opened at $7.2. The coin jumped from $7.2 to $7.5 by 4.35%. The coin slipped immediately, and the price changed from $7.5 to $7.1 by 5.20%. Further, the coin kept moving up and down. Further, the price dropped from $7.3 to $6.9 by 6.07%. Towards the end of the day, the coin escalated to $7.2 from $6.8 by 5.29%. The coin closed the day at $7.2 with a drop of 0.22%. Today, the coin opened with a drop. The price shifted from $7.2 to $7 by 2.74%. Further, the coin slipped again from $7.1 to $6.9 by 2.73%.
| | |
| --- | --- |
| Particulars | Ethereum Classic (ETC) |
| Price | $7.11 |
| ROI | 845.28% |
| Rank | 16 |
| Market Cap | $803,194,282 USD |
| 24hr Volume | $961,888,397 USD |
| Circulating Supply | 112,938,866 ETC |
ETC Price Prediction and Conclusion:
Ethereum Classic (ETC) was dealing at the 20th rank in the crypto market. The coin took a high jump and escalated the market cap. From yesterday, the coin is positioned at 16th rank. The escalation in the market indicates the trust of the traders in the coin. The future prospects of the coin are also anticipated to be good. We believe that investing in the coin wouldn't go futile.
The coin is speculated to touch $10 by the end of 2019. In the coming years, the coin might be seen dealing with a 4% to 5% profit. The coin would be best suited for long term traders as it would open doors for traders to earn a high dividend.