Let us compare the price of EOS since the past 5 days. It started off at the level of $4.30 on 21-July-19. Prices seemed to rise upwards, but there was a sharp fall on 22-July-19. For the next 2 days, the coin was mostly showing bearish trends as it could not manage to maintain the rise on 23-July-19. The next day on 24-July-19 the coin saw a sharp upward leap and it continued to rise to the level of $4.70 yesterday at about 13:05 UTC time. Since yesterday the coin seems to be more or less stable without any drastic rise or fall as such. We believe that EOS will manage to rise upwards considering its past performance and will maintain the bullish trend that it had shown earlier.
EOS price comparison is as mentioned below: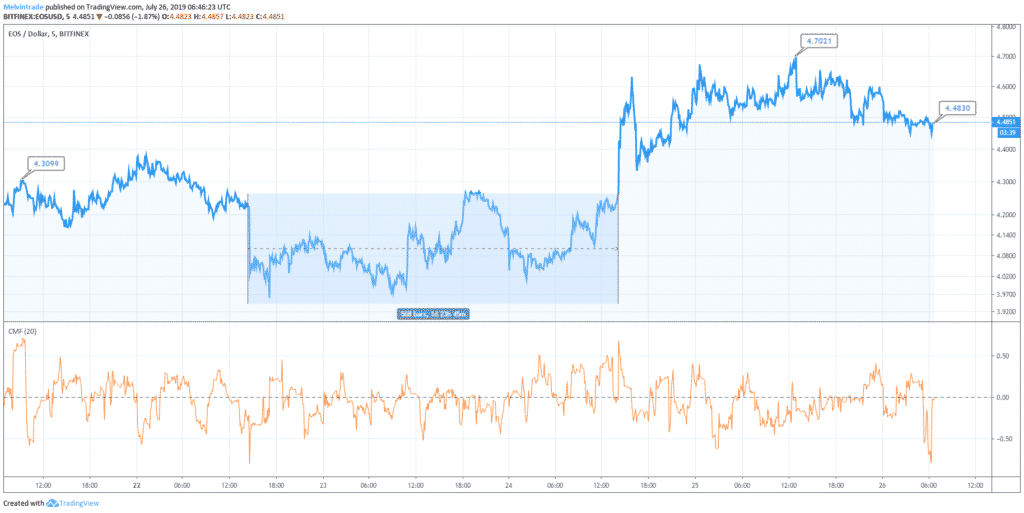 Current Data of EOS:
EOS has maintained the rank number 7.
As per 06:29 UTC time today, market value of the coin was 4,138,784,092 USD.
Price of EOS is $4.48 at 06:45 UTC time.
24-hour volume figures are $2,009,830,991 
924,780,126 EOS coins in circulation.
EOS offers a ROI of 333.78%.
EOS Price Comparison and Future prediction:
If we compare the price of the coin since 21-July-19 at 09:20 UTC time when the price was $4.30 and the current prices, the coin is reflecting a bullish run by 4%.
We anticipate that the coin may reach $4.54 with a change of around 1.31% by the end of the day tomorrow. By the next month, EOS can touch $4.63 with 3% growth. At the time of end of 2019, it can reach as high as $5.41 with more than 20% growth.
Advisable to sell the existing EOS coins in hand today as per the movement and trend observed. You may also purchase new coins after a few days' time and accordingly retain the same from a long term perspective. The Chaikin Money Flow indicator reflects that the coin is almost on the verge of reaching the bullish trend. EOS has a great future ahead considering the kind of returns that it has offered in the past and in the long run will prove to be a boon to the investors.